We reviewed (and loved!) Logitech's full-sized Wireless Solar Keyboard K750 for Mac ($60) that allows you to never worry about wireless keyboard batteries again. Logitech also announced a Wireless Keyboard iPad case last month ($129).
Logitech announced a smaller version of the keyboard today called "the K760", which not only shrinks the footprint considerably by dropping the numeric keypad, but it also addresses the No. 1 issue our commenters had by adding Bluetooth. Adding some awesome to that, Logitech took our iPad/Mac/iPhone switching needs into consideration and created a button that allows the keyboard to switch up to three Bluetooth profiles manually, instead of having to re-pair each time we switch.
The K760 hits stores next month for a suggested retail price of $80. We will hopefully have a review up shortly.
The press release follows:
Today Logitech announced the expansion of its solar offering with the new Logitech Wireless Solar Keyboard K760 for Mac, iPad or iPhone. A continuation of Logitech's solar series, which started with the Logitech Wireless Solar Keyboard K750 and has continued with the Logitech Solar Keyboard Folio for iPad, this new keyboard adds Bluetooth® connectivity with an easy-switching capability. It allows you to simultaneously pair multiple devices and quickly switch among them with the push of a button.
"Laptops, smartphones and tablets are ubiquitous – both at work and at play," said Denis Pavillard, vice president of experience design at Logitech, in a statement. "Because Apple devices are central to this trend, Logitech is committed to improving the way people interact with them. With its simple solar charging, familiar Mac layout and comfortable design, the Logitech Wireless Solar Keyboard K760 will appeal to Apple users worldwide."
The Logitech Wireless Solar Keyboard K760 is stylish and compact with onboard cells that are powered by light for hassle-free charging. With its easy-switching Bluetooth connection, you can pair your keyboard to as many as three devices and switch among them without having to reconnect. This means you can move from typing on your Mac to your iPad to your iPhone – and back again – with the simple push of a button.
The perfect match for your favorite Apple device, the Logitech Wireless Solar Keyboard K760 features a slim, minimalist design and Mac-specific keys, including Command, Brightness, Eject and more. The unique Logitech concave key design gives you more comfortable and quiet typing, and offers more speed and precision than typing on an on-screen keyboard.
And, with its environmentally friendly PVC-free construction, fully recyclable box and onboard cells for charging, this keyboard is designed to minimize its environmental footprint. Similar to the existing Logitech Solar Keyboards, you can charge this keyboard in any light – low light or lamp light, indoors or outdoors. Fully powered, the keyboard works for at least three months, even in total darkness (based on average use per day of eight hours).
The Logitech Wireless Solar Keyboard K760 is expected to be available in the U.S. and Europe beginning in June 2012, for a suggested retail price of $79.99. More information here.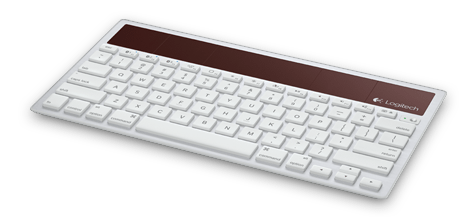 Powered by light—even indoors—this keyboard makes battery hassles a thing of the past in a streamlined, comfortable design.

Light-powered keyboard
It doesn't get easier than this. The light-powered keyboard works where you do—your house, your office, your hotel room. It charges itself with lamplight or sunlight, indoors or outdoors.
And on a full charge it works for at least three months—even in total darkness. Which means that you can say good-bye to battery hassles.

Bluetooth® wireless technology
No receiver or cable needed—you'll enjoy a fast, reliable connection from up to 30 feet away, without hassle.

Feel-good typing
For more comfortable typing on your Mac, the unique Logitech concave key design delivers fast, quiet typing—and offers more precision than your iPad or iPhone on-screen keyboard.

Small steps, bright future
From the PVC-free construction to the fully recyclable box, the K760 is designed to reduce its environmental footprint.
Related articles
FTC: We use income earning auto affiliate links. More.
---