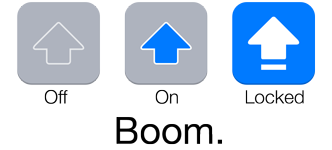 As I'm sure we all know, everyone complains about the shift key on the iOS keyboard. Is it on? Is it off? No one knows. Well, we went ahead and did something about it. Our new iOS keyboard extension Shifty is designed to do ONE thing and ONE thing ONLY:
Fix the iOS shift key.
No more confusion about whether the shift key is on or off. With Shifty, you'll always know.
Additionally, Shifty lets you choose the color of the shift key. So…ok…I guess that's actually two things. Like I said, Shifty is designed to do TWO things and TWO things ONLY:
Fix the iOS shift key and let you choose its color.
To help promote the launch, we've made a rather amusing promotional video: Shifty just launched today, so let me know if you'd like any other information about it. I'm sure you are all relieved that the days of shift key ambiguity have finally come to an end.
Kind Regards, Adam Shaw (developer of Shifty) info@shiftkey.fail
Price: $.99 USD Requirements: iPhone running iOS 8 or later
App Store http://itunes.apple.com/app/id963429…3vpsD&ct=sh_mr
Web site http://shiftkey.fail